Veterinary Assistant Salary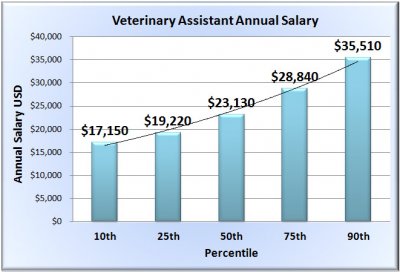 The average veterinary assistant salary is $23,130.00, but as you work in the field and gain experience, your salary can increase commensurate with your experience level. Some veterinarians will have the veterinary assistant run the office, completing a large number of administrative tasks, along with taking care of the patients as they arrive and getting them ready for a visit with the veterinarian.
Best Prospects
The highest paid veterinary assistants were those working in the state of Massachusetts, with an average salary of $32,040. Higher salaries are routinely offered for jobs with universities, as high as $32,310, and animal research facilities. The lower wage earners routinely worked for social advocacy organizations - as low as $23,000. About 90% of veterinary assistants currently working in the field are earning salaries in the range of $23,600.
Job Outlook
Some veterinarian offices work with household pets like cats and dogs while other veterinarian practices cover larger animals including horses, cows, pigs, goats and sheep. Some veterinarians have dedicated jobs in zoos and this can be a very rewarding career for the right candidate. The job outlook is that the field will grow by 10% by 2022.
Veterinary Assistant Salary by State
State
Lowest 10%
Median Salary
Highest 10%
Average Salary
Alabama
$16,520
$21,050
$31,320
$21,980
Alaska
$19,000
$29,580
$39,490
$29,330
Arizona
$17,120
$22,540
$30,320
$23,560
Arkansas
$16,740
$21,640
$30,080
$22,340
California
$18,680
$26,440
$38,490
$27,990
Colorado
$18,680
$26,440
$38,490
$27,990
Connecticut
$19,380
$27,210
$33,450
$23,960
Delaware
$20,600
$28,800
$50,910
$31,450
Florida
$16,790
$20,600
$28,890
$21,880
Georgia
$16,650
$21,670
$33,600
$23,030
Hawaii
$17,110
$24,490
$33,780
$24,530
Idaho
$16,320
$20,850
$30,560
$22,040
Illinois
$18,240
$22,350
$33,360
$23,810
Indiana
$16,760
$22,660
$33,890
$24,060
Iowa
$16,440
$21,750
$30,460
$22,590
Kansas
$16,320
$19,730
$28,800
$20,990
Kentucky
$15,980
$18,700
$25,650
$19,440
Louisiana
$16,270
$20,170
$29,120
$21,260
Maine
$21,180
$28,610
$40,400
$30,140
Maryland
$17,260
$23,430
$38,760
$26,240
Massachusetts
$19,620
$30,440
$45,540
$32,040
Michigan
$17,620
$24,430
$34,740
$25,140
Minnesota
$19,690
$28,740
$37,780
$28,880
Mississippi
$16,180
$19,420
$26,460
$20,040
Missouri
$16,160
$19,400
$26,940
$20,410
Montana
$17,010
$22,540
$30,140
$23,270
Nebraska
$16,610
$22,290
$34,100
$23,500
Nevada
$16,840
$23,850
$37,140
$26,080
New Hampshire
$16,910
$24,690
$31,470
$24,190
New Jersey
$17,620
$23,760
$30,650
$24,570
New Mexico
$17,760
$24,120
$30,450
$24,240
New York
$18,750
$25,930
$41,200
$28,050
North Carolina
$16,340
$21,440
$33,780
$23,030
North Dakota
$17,970
$21,540
$33,780
$23,030
Ohio
$17,170
$21,980
$29,980
$22,800
Oklahoma
$17,130
$24,620
$36,680
$25,910
Oregon
$18,960
$24,140
$29,620
$24,200
Pennsylvania
$17,330
$23,250
$34,700
$24,620
Rhode Island
$17,360
$26,360
$34,750
$26,120
South Carolina
$16,830
$24,660
$32,360
$24,960
South Dakota
$16,400
$20,300
$26,950
$20,720
Tennessee
$17,120
$23,070
$31,090
$23,720
Texas
$16,310
$20,720
$35,910
$23,370
Utah
$15,880
$18,440
$28,080
$19,870
Vermont
$18,140
$22,090
$29,460
$23,380
Virginia
$17,140
$24,920
$35,740
$25,370
Washington
$19,480
$24,650
$31,380
$25,340
West Virginia
$16,210
$19,600
$28,290
$20,730
Wisconsin
$16,890
$23,390
$29,980
$23,460
Wyoming
$16,790
$23,380
$41,720
$25,800