Legal Assistant Salary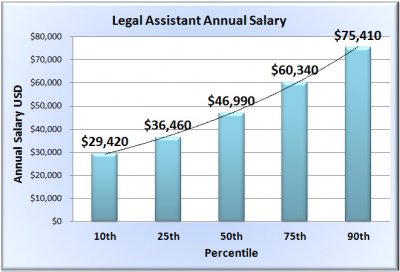 A legal assistant can earn around $46,990 annually. Legal assistants work closely with attorneys and prepare court documents, deal with sensitive client information and schedule important meetings. As a legal assistant works with the same attorney over many years they will generally see many increases in their pay and receive bonuses, it depends upon the success of the attorney and the financial health of the law firm.
Best Prospects
Over 267,000 legal assistants are currently employed in the field. The range of salaries is between $29,000 and $76,000. Those who are employed with the Federal Executive Branch are currently earning the highest salaries available in the field. About 90% of salaries can be translated into an hourly wage of $36.26 and an annual wage of $75,410. Legal assistants in the District of Columbia tend to earn the highest salaries in the country - on average around $68,850 with California taking a close second with salaries of approximately $58,570.00.
Job Outlook
The field of legal assisting is projected to grow by 17% by 2022. Legal assistants who have strong computer skills and relevant experience are the most likely to get the best paying jobs. The competition for jobs can be quite intense, so it is best to have every advantage possible in order to be the most attractive employment prospect to potential employers.
Legal Assistant Salary by State
| | | | | |
| --- | --- | --- | --- | --- |
| State | Lowest 10% | Median Salary | Highest 10% | Average Salary |
| Alabama | $25,600 | $42,300 | $61,680 | $44,700 |
| Alaska | $40,700 | $55,790 | $73,520 | $56,720 |
| Arizona | $30,420 | $44,420 | $70,930 | $47,520 |
| Arkansas | $27,070 | $35,710 | $54,910 | $38,290 |
| California | $32,640 | $56,160 | $90,420 | $58,570 |
| Colorado | $32,270 | $46,380 | $75,110 | $50,480 |
| Connecticut | $33,360 | $50,250 | $77,680 | $52,520 |
| Delaware | $34,460 | $47,480 | $77,410 | $51,910 |
| Florida | $28,550 | $44,540 | $67,920 | $46,500 |
| Georgia | $31,070 | $47,060 | $75,000 | $50,540 |
| Hawaii | $36,350 | $52,190 | $76,920 | $54,850 |
| Idaho | $25,640 | $37,380 | $59,770 | $40,250 |
| Illinois | $31,780 | $51,530 | $73,840 | $51,630 |
| Indiana | $25,490 | $36,610 | $59,530 | $39,620 |
| Iowa | $28,320 | $44,170 | $58,310 | $43,210 |
| Kansas | $26,440 | $41,170 | $61,570 | $43,070 |
| Kentucky | $25,580 | $38,780 | $63,130 | $41,540 |
| Louisiana | $23,630 | $41,570 | $60,170 | $42,370 |
| Maine | $30,050 | $47,290 | $60,000 | $46,210 |
| Maryland | $29,940 | $51,630 | $70,030 | $50,970 |
| Massachusetts | $33,230 | $47,340 | $77,990 | $52,020 |
| Michigan | $31,350 | $47,560 | $71,110 | $49,250 |
| Minnesota | $31,330 | $50,260 | $76,880 | $52,640 |
| Mississippi | $27,100 | $37,240 | $60,770 | $40,930 |
| Missouri | $27,910 | $48,980 | $70,040 | $48,380 |
| Montana | $27,570 | $38,200 | $55,360 | $40,110 |
| Nebraska | $29,160 | $41,650 | $60,670 | $43,680 |
| Nevada | $35,420 | $50,610 | $69,650 | $50,930 |
| New Hampshire | $30,170 | $42,850 | $59,170 | $44,030 |
| New Jersey | $38,380 | $54,680 | $83,750 | $58,050 |
| New Mexico | $27,910 | $39,630 | $59,320 | $42,500 |
| New York | $32,890 | $51,930 | $77,320 | $53,570 |
| North Carolina | $25,780 | $38,970 | $61,040 | $41,740 |
| North Dakota | $24,970 | $41,840 | $61,230 | $43,370 |
| Ohio | $26,520 | $42,010 | $67,550 | $44,530 |
| Oklahoma | $21,220 | $38,860 | $68,270 | $42,060 |
| Oregon | $33,620 | $50,460 | $77,810 | $54,460 |
| Pennsylvania | $31,150 | $52,420 | $75,960 | $53,220 |
| Rhode Island | $32,550 | $41,760 | $71,920 | $46,780 |
| South Carolina | $25,750 | $39,020 | $60,780 | $41,750 |
| South Dakota | $32,110 | $38,780 | $55,490 | $41,850 |
| Tennessee | $24,960 | $38,790 | $65,090 | $42,710 |
| Texas | $28,460 | $45,840 | $80,600 | $50,630 |
| Utah | $30,770 | $43,460 | $68,830 | $46,120 |
| Vermont | $28,580 | $39,540 | $59,430 | $42,110 |
| Virginia | $29,870 | $47,030 | $76,540 | $50,990 |
| Washington | $31,080 | $49,280 | $75,430 | $51,730 |
| West Virginia | $25,460 | $36,430 | $61,950 | $39,990 |
| Wisconsin | $27,230 | $41,640 | $63,160 | $43,850 |
| Wyoming | $26,450 | $39,550 | $55,320 | $40,910 |