Accounting Assistant Salary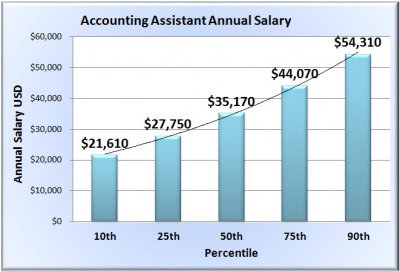 Accountants might be tasks with many responsibilities so an accounting assistant can be a tremendous help to a firm. Since the assistant may be responsible for performing numerous tasks, salaries offered must be competitive.
Salary Range
A review of the national average reveals an accounting assistant salary to be around $32,469. This figure can be somewhat misleading because the type of work the assistant may be required to perform can vary enormously from company to company as well as who the assistant is actually assisting. Someone who is employed as an assistant clerk could earn as little as $8.04 an hour. Someone who may be in an assistant role could actually also assume managerial duties if he/she is acting as an assistant to an executive in a business sector that is very specialized. Such an assistant could earn $40,000+ per year. This is why some resources break assistants/clerks down into three levels, depending on the job.
Job Outlook
The outlook for this career is going to vary, but it is safe to say the job market will always be stable since there is consistent need for these assistants in all industries.
Accounting Assistant Salary by State
State
Lowest 10%
Median Salary
Highest 10%
Average Salary
Alabama
$21,950
$32,190
$47,230
$33,570
Alaska
$27,150
$40,840
$59,070
$42,150
Arizona
$22,850
$34,920
$49,990
$36,180
Arkansas
$20,820
$30,960
$47,190
$33,010
California
$25,130
$39,870
$60,130
$41,420
Colorado
$19,240
$34,730
$55,030
$36,110
Connecticut
$25,890
$41,440
$59,520
$42,190
Delaware
$25,280
$37,010
$54,700
$38,100
Florida
$20,610
$32,580
$47,060
$33,480
Georgia
$21,510
$34,110
$51,270
$35,410
Hawaii
$24,250
$35,790
$51,160
$36,610
Idaho
$19,530
$31,050
$46,690
$32,460
Illinois
$21,800
$36,170
$54,960
$37,350
Indiana
$20,920
$32,680
$46,900
$33,600
Iowa
$18,790
$30,460
$45,770
$31,640
Kansas
$21,000
$31,720
$46,910
$33,100
Kentucky
$19,750
$31,880
$47,900
$33,120
Louisiana
$21,810
$33,180
$47,090
$33,900
Maine
$22,660
$33,850
$46,980
$34,320
Maryland
$24,660
$40,120
$60,130
$41,250
Massachusetts
$26,040
$40,790
$58,920
$41,630
Michigan
$21,340
$35,110
$50,990
$35,980
Minnesota
$22,360
$35,930
$51,210
$36,440
Mississippi
$19,680
$31,140
$46,190
$32,220
Missouri
$19,520
$32,240
$50,610
$34,040
Montana
$18,170
$30,030
$47,820
$32,040
Nebraska
$19,210
$30,360
$45,190
$31,330
Nevada
$21,750
$34,960
$54,260
$36,710
New Hampshire
$24,150
$36,700
$55,100
$38,090
New Jersey
$25,890
$40,230
$58,630
$41,290
New Mexico
$20,270
$33,000
$48,390
$34,010
New York
$24,080
$38,760
$59,260
$40,320
North Carolina
$22,400
$34,010
$48,120
$34,790
North Dakota
$22,070
$33,030
$47,050
$33,790
Ohio
$20,760
$34,550
$51,760
$35,940
Oklahoma
$18,530
$28,880
$44,400
$30,420
Oregon
$22,960
$35,220
$51,800
$36,640
Pennsylvania
$20,970
$35,060
$53,800
$36,310
Rhode Island
$23,780
$37,730
$56,510
$39,350
South Carolina
$19,570
$32,440
$48,130
$33,660
South Dakota
$20,800
$28,550
$37,960
$28,960
Tennessee
$19,790
$31,790
$48,510
$33,310
Texas
$22,170
$34,080
$52,590
$35,530
Utah
$22,170
$32,570
$46,290
$33,530
Vermont
$21,790
$34,480
$48,430
$35,210
Virginia
$21,750
$35,830
$56,360
$37,520
Washington
$25,140
$38,030
$56,050
$39,360
West Virginia
$18,660
$28,650
$45,220
$30,560
Wisconsin
$20,120
$33,840
$47,970
$34,570
Wyoming
$22,470
$27,720
$50,680
$35,980