Dental Assistant Salary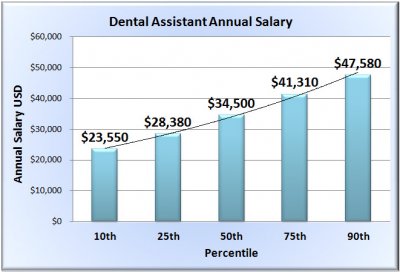 The average dental assistant earns anywhere between $32,000 and $36,000 per year. Some states require dental assistants to take an accredited course, pass a state exam and receive proper certification while other states do not have any formal requirements. It is definitely preferable to have certification in place when searching for new employment. Many dental assistants receive bonuses if they have been working in the same office for many years but this varies between employers, depending upon their practice and directives.
Best Career Prospects
The highest paid dental assistants earn an average salary of $43,480 in the State of New Hampshire with those in Minnesota coming in at a close second with an average annual salary of $42,420. The best paying jobs are in private dental practices, with average salaries standing firm at $35,070. Ambulatory Health Care Services jobs for dental assistants pay on average $32,760. As of 2012, there were 303,200 dental assistants working the United States. Of those dental assistants, 275,580 were earning an average salary of around $35,070.
Job Outlook
The employment opportunities for certified dental assistants is expected to grow by 25% before the year 2022 which is much quicker than most occupations. If you are looking for a rewarding career that is enjoying continued growth, becoming a dental assistant is definitely a good option. As of 2012, there were over 303,200 dental assistants employed across the country.
Dental Assistant Salary by State
State
Lowest 10%
Median Salary
Highest 10%
Average Salary
Alabama
$19,800
$30,240
$37,900
$29,550
Alaska
$27,970
$42,250
$56,780
$41,970
Arizona
$26,340
$34,730
$45,330
$34,980
Arkansas
$20,840
$28,160
$37,080
$28,590
California
$23,990
$35,590
$52,260
$36,660
Colorado
$25,170
$37,240
$52,360
$37,590
Connecticut
$30,970
$41,010
$53,460
$40,680
Delaware
$21,400
$34,080
$45,640
$33,460
Florida
$23,450
$33,820
$45,260
$33,890
Georgia
$22,790
$33,850
$49,230
$34,820
Hawaii
$21,690
$31,750
$46,110
$32,740
Idaho
$21,230
$31,550
$42,410
$31,480
Illinois
$20,790
$32,610
$45,910
$32,890
Indiana
$24,940
$34,680
$46,910
$35,230
Iowa
$26,270
$35,600
$46,190
$35,780
Kansas
$21,810
$31,620
$42,200
$31,650
Kentucky
$22,640
$30,150
$42,340
$31,310
Louisiana
$21,200
$28,880
$38,160
$29,460
Maine
$27,330
$37,650
$47,520
$37,780
Maryland
$23,580
$36,950
$49,300
$36,860
Massachusetts
$28,880
$40,950
$56,100
$41,290
Michigan
$24,500
$33,640
$44,740
$33,730
Minnesota
$32,470
$42,480
$54,630
$42,420
Mississippi
$21,560
$28,730
$39,760
$29,710
Missouri
$23,510
$33,310
$45,920
$33,790
Montana
$21,590
$31,070
$40,720
$31,190
Nebraska
$24,190
$31,580
$42,810
$32,130
Nevada
$30,610
$36,980
$46,170
$37,290
New Hampshire
$29,380
$44,360
$57,630
$43,480
New Jersey
$24,380
$38,730
$53,950
$38,690
New Mexico
$21,790
$31,600
$44,580
$32,190
New York
$25,150
$34,690
$47,960
$35,540
North Carolina
$27,300
$36,690
$47,780
$37,280
North Dakota
$26,930
$34,380
$45,230
$35,120
Ohio
$24,200
$33,690
$45,370
$33,980
Oklahoma
$20,640
$29,390
$38,490
$29,680
Oregon
$30,720
$38,140
$52,710
$39,500
Pennsylvania
$21,970
$32,480
$45,460
$32,850
Rhode Island
$25,830
$36,520
$45,950
$35,710
South Carolina
$24,340
$33,980
$44,410
$33,980
South Dakota
$21,330
$28,690
$38,610
$29,590
Tennessee
$23,240
$33,050
$44,440
$33,160
Texas
$21,380
$32,880
$44,420
$32,700
Utah
$20,580
$26,930
$36,020
$27,460
Vermont
$26,790
$37,920
$47,620
$37,560
Virginia
$23,240
$34,830
$53,090
$36,200
Washington
$27,700
$39,390
$52,340
$39,430
West Virginia
$19,570
$26,750
$36,680
$27,170
Wisconsin
$25,640
$34,620
$45,860
$35,070
Wyoming
$25,290
$33,380
$43,790
$33,550