Physician Assistant Salary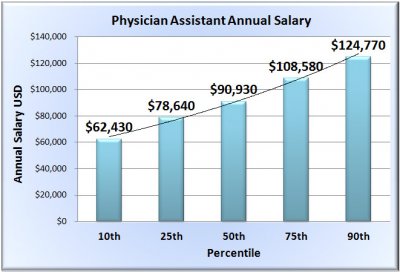 Physician assistants on average earn an annual salary of about $92,460, and their average hourly pay is $44.45. Those who are in the top 10 percent of earners make around $124,770, while those in the bottom 10 percent earn about $62,430. Among the highest paying industries for this occupation are specialty hospitals, home healthcare services, office administrative services and outpatient centers. Top paying cities for physician assistants include Racine, WI ($145,860), Texarkana, TX-AR ($143,890), Tyler, TX ($127,160), and Gainesville, GA ($127,000).
Bonuses vary depending on a number of factors, such as years of experience. Physician assistants with less than 1 year of experience may earn bonuses of up to $512 per year, while those with 1 to 4 years of experience may earn up to $1,022. With more than 5 years of experience, a physician assistant may expect almost $2000 in bonuses per year.
Employment
About 83,640 physician assistants were employed across the country in 2012. Physicians' offices, hospitals and outpatient centers are the primary workplaces for physician assistants.
Job Outlook
The employment rate of physician assistants is predicted to grow by 38 percent between 2012 and 2022. It is expected that 33,300 new jobs will open during this period.
Physician Assistant Salary by State
State
Lowest 10%
Median Salary
Highest 10%
Average Salary
Alabama
$55,660
$84,790
$112,430
$83,410
Alaska
$73,330
$93,630
$124,060
$96,630
Arizona
$47,630
$90,740
$133,310
$96,040
Arkansas
$41,710
$85,970
$112,330
$82,140
California
$68,630
$102,310
$142,030
$101,880
Colorado
$61,310
$89,370
$117,830
$89,790
Connecticut
$79,680
$104,380
$136,720
$104,540
Delaware
$76,030
$92,830
$118,750
$95,330
Florida
$64,910
$92,580
$132,270
$95,650
Georgia
$64,970
$89,730
$126,450
$92,150
Hawaii
$36,360
$82,020
$106,340
$77,240
Idaho
$61,750
$88,480
$121,730
$88,080
Illinois
$51,730
$85,460
$112,960
$84,440
Indiana
$52,280
$84,150
$121,150
$83,830
Iowa
$62,860
$87,380
$114,680
$87,820
Kansas
$65,520
$84,250
$115,840
$86,430
Kentucky
$72,460
$90,840
$143,370
$98,550
Louisiana
$36,410
$56,620
$112,900
$75,890
Maine
$76,340
$93,160
$117,960
$98,560
Maryland
$49,230
$90,150
$123,490
$88,040
Massachusetts
$35,120
$92,020
$121,600
$86,440
Michigan
$62,410
$88,310
$118,360
$90,050
Minnesota
$64,650
$94,630
$127,700
$94,820
Mississippi
$26,860
$42,360
$89,460
$50,200
Missouri
$35,610
$83,560
$128,210
$83,420
Montana
$66,060
$88,420
$114,050
$88,590
Nebraska
$66,830
$86,690
$113,490
$87,760
Nevada
$77,250
$95,820
$147,750
$102,670
New Hampshire
$75,700
$97,640
$137,200
$101,380
New Jersey
$78,200
$98,130
$126,810
$99,940
New Mexico
$31,620
$82,970
$116,270
$78,950
New York
$72,610
$94,710
$122,350
$94,200
North Carolina
$70,820
$89,860
$116,580
$91,060
North Dakota
$70,120
$87,060
$107,780
$86,480
Ohio
$69,770
$88,040
$115,530
$89,800
Oklahoma
$49,380
$88,510
$132,630
$89,150
Oregon
$76,490
$99,540
$145,150
$103,400
Pennsylvania
$46,340
$79,120
$106,080
$77,110
Rhode Island
$73,240
$107,300
$146,000
$112,250
South Carolina
$53,990
$85,950
$117,740
$85,470
South Dakota
$68,740
$87,160
$112,570
$87,680
Tennessee
$53,190
$86,750
$119,390
$87,550
Texas
$59,060
$95,200
$139,400
$99,040
Utah
$42,550
$87,850
$117,540
$85,760
Vermont
$70,060
$89,760
$115,820
$90,100
Virginia
$45,250
$82,770
$114,390
$82,150
Washington
$78,850
$101,080
$140,910
$103,890
West Virginia
$50,310
$84,550
$117,380
$89,360
Wisconsin
$76,470
$92,980
$123,400
$96,360
Wyoming
$70,370
$91,590
$124,040
$94,850