Medical Assistant Salary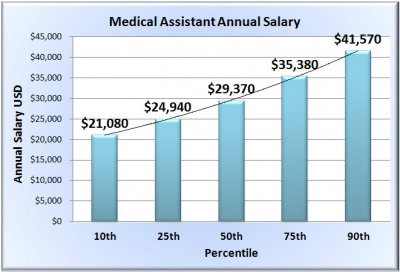 The average annual salary of a medical assistant is $30,550, which is about an average hourly pay of $14.69. The top 10 percent of medical assistants earn around $41,570, while the bottom 10 percent earn $21,080. Salaries may vary depending on level of qualification, experience, place of occupation and geography. The highest paying medical assistant positions are at psychiatric/substance abuse hospitals, insurance companies, scientific research facilities, and dentist offices. Cities with the highest average salaries for medical assistants include Vallejo, CA ($47,430), Fairbanks, AK ($42,520), San Francisco ($41,900), Santa Rosa, CA ($39,830) and Danbury, CT ($39,430).
Employment Rate
There were around 560,800 medical assistants employed in the United States in 2012. The majority of medical assistants work in physicians' offices and hospitals or other healthcare facilities.
Job Outlook
Medical assistants are high in demand. The employment rate is expected to increase by 29 percent from 2012 to 2022, which is a lot faster than the average rate for all occupations.
Medical Assistant Salary by State
State
Lowest 10%
Median Salary
Highest 10%
Average Salary
Alabama
$17,640
$24,370
$33,310
$24,860
Alaska
$27,960
$39,780
$54,040
$39,900
Arizona
$22,760
$31,030
$38,700
$31,410
Arkansas
$20,250
$25,580
$35,960
$26,780
California
$21,910
$32,440
$47,950
$33,750
Colorado
$24,200
$31,780
$43,810
$32,790
Connecticut
$24,060
$33,220
$46,150
$34,100
Delaware
$21,820
$30,750
$43,660
$31,670
Florida
$20,550
$28,030
$37,410
$28,600
Georgia
$20,260
$28,020
$37,720
$28,720
Hawaii
$24,180
$34,830
$46,150
$34,780
Idaho
$22,500
$28,650
$37,350
$29,310
Illinois
$21,620
$29,520
$40,130
$31,320
Indiana
$21,050
$28,060
$37,430
$28,800
Iowa
$21,650
$29,020
$37,940
$29,700
Kansas
$20,340
$26,120
$36,410
$27,060
Kentucky
$19,700
$26,820
$35,860
$27,040
Louisiana
$18,980
$25,980
$35,940
$26,560
Maine
$24,370
$29,690
$38,540
$30,760
Maryland
$23,990
$31,220
$40,760
$31,770
Massachusetts
$26,520
$35,600
$47,950
$37,210
Michigan
$20,710
$27,700
$37,240
$28,410
Minnesota
$22,230
$32,820
$43,620
$32,530
Mississippi
$19,000
$24,590
$35,750
$26,000
Missouri
$19,970
$27,090
$38,070
$28,180
Montana
$22,150
$29,650
$38,050
$30,180
Nebraska
$21,080
$28,370
$37,530
$29,010
Nevada
$24,630
$30,690
$38,900
$31,360
New Hampshire
$25,430
$31,710
$38,780
$32,100
New Jersey
$23,870
$31,120
$42,950
$32,090
New Mexico
$20,760
$27,700
$36,960
$28,220
New York
$23,280
$32,530
$45,200
$33,270
North Carolina
$21,510
$28,690
$27,280
$29,090
North Dakota
$22,440
$29,870
$37,300
$29,920
Ohio
$20,740
$27,620
$36,460
$28,040
Oklahoma
$18,450
$24,270
$33,690
$25,280
Oregon
$24,880
$33,150
$44,310
$33,510
Pennsylvania
$21,450
$28,700
$39,120
$29,900
Rhode Island
$24,660
$31,450
$38,670
$31,760
South Carolina
$21,050
$28,120
$37,720
$29,130
South Dakota
$20,920
$26,740
$33,960
$26,840
Tennessee
$20,340
$27,320
$37,480
$28,140
Texas
$19,310
$27,380
$37,900
$28,270
Utah
$21,470
$27,560
$35,850
$27,970
Vermont
$25,190
$30,770
$44,160
$32,660
Virginia
$21,130
$29,740
$40,620
$30,490
Washington
$26,190
$34,790
$46,040
$35,330
West Virginia
$17,700
$23,420
$31,830
$24,360
Wisconsin
$24,510
$30,940
$38,500
$31,390
Wyoming
$22,570
$29,750
$37,700
$30,250