Occupational Therapy Assistant Salary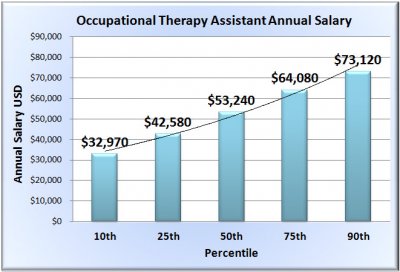 For occupational therapy assistants in the United States, the average salary is $53,090, while the mean hourly wage is $25.52. When looking at the top and bottom 10 percent of earners for this occupation, the annual salary level ranges from about $73,120 to $32,970. Some of the top paying employers for occupational therapy assistants include home healthcare services, nursing care facilities, health practitioner officers and specialty hospitals. Pay also varies by location, with the highest average salaries found in the city areas of Las Vegas-Paradise, NV ($73,930), Fort Worth-Arlington, TX ($76,360), and Reading, PA ($72, 390). Bonuses may be paid to occupational therapy assistants by their employers, and can reach up to $973 per year.
Employment Rate
In the United States, about 29,500 people work as occupational therapy assistants in 2012. Most are employed in health practitioner offices, nursing care facilities and hospitals. There are also occupational therapy assistants who work in schools or deliver home healthcare services.
Job Outlook
The employment rate for this occupation expected to rise from 2012 to 2022 by 43 percent, with an estimated 12,900 new job openings in the next decade.
Occupational Therapy Assistant Salary by State
State
Lowest 10%
Median Salary
Highest 10%
Average Salary
Alabama
$40,620
$54,600
$71,540
$54,430
Alaska
NA
NA
NA
NA
Arizona
$20,510
$28,390
$67,670
$37,630
Arkansas
$29,170
$51,100
$71,990
$50,840
California
$48,790
$67,440
$86,730
$65,920
Colorado
$23,160
$43,490
$61,420
$42,750
Connecticut
$40,840
$56,040
$72,070
$55,730
Delaware
$41,580
$60,440
$87,010
$62,170
Florida
$41,180
$59,210
$74,100
$58,330
Georgia
$40,990
$56,360
$71,680
$55,510
Hawaii
$39,320
$45,050
$56,170
$45,680
Idaho
$38,640
$55,800
$75,200
$55,390
Illinois
$31,220
$52,550
$72,320
$51,940
Indiana
$36,640
$53,100
$69,570
$52,540
Iowa
$38,760
$50,870
$61,950
$50,280
Kansas
$32,690
$56,640
$75,520
$55,710
Kentucky
$35,820
$54,030
$71,860
$53,760
Louisiana
$37,040
$55,050
$72,600
$54,110
Maine
$36,280
$45,760
$59,040
$46,570
Maryland
$38,390
$59,360
$74,660
$58,070
Massachusetts
$37,470
$53,360
$69,920
$52,740
Michigan
$30,560
$42,810
$58,370
$43,750
Minnesota
$22,500
$41,300
$55,500
$39,620
Mississippi
$33,210
$47,050
$70,120
$49,170
Missouri
$39,500
$54,470
$71,130
$54,460
Montana
$24,530
$39,160
$56,420
$39,400
Nebraska
$38,990
$54,540
$75,410
$55,570
Nevada
$48,780
$65,630
$153,060
$76,420
New Hampshire
$33,170
$50,980
$67,280
$50,080
New Jersey
$45,100
$64,380
$76,240
$62,310
New Mexico
$25,350
$32,140
$63,310
$39,640
New York
$32,590
$48,210
$68,910
$48,910
North Carolina
$34,060
$55,180
$72,010
$53,480
North Dakota
$31,200
$42,410
$57,960
$43,030
Ohio
$38,910
$53,420
$71,770
$53,540
Oklahoma
$17,690
$49,060
$69,570
$45,340
Oregon
$43,110
$55,130
$70,220
$55,020
Pennsylvania
$31,410
$44,080
$61,350
$45,680
Rhode Island
$39,610
$48,080
$66,710
$50,240
South Carolina
$19,580
$49,120
$69,700
$47,140
South Dakota
$30,000
$35,700
$44,900
$36,140
Tennessee
$34,280
$52,560
$70,240
$51,720
Texas
$30,400
$63,740
$88,320
$62,050
Utah
$41,000
$53,640
$69,420
$54,000
Vermont
NA
NA
NA
NA
Virginia
$36,070
$62,000
$80,740
$59,590
Washington
$42,890
$56,510
$73,840
$57,280
West Virginia
$40,790
$53,470
$70,070
$53,830
Wisconsin
$34,000
$46,520
$59,020
$46,730
Wyoming
$34,730
$45,230
$59,780
$46,410