Nursing Assistant Salary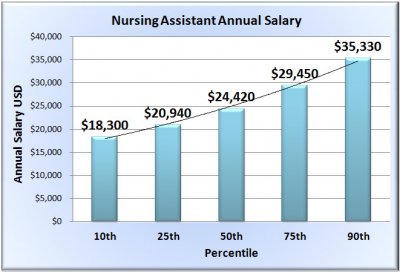 The average nursing assistant salary is $25,620 per annum, or $12.32 per hour. Nursing assistant salaries range from $18,300, for the bottom 10 percent of earners, to $35,330 for the top 10 percent of earners. Nurse assistants employed by the federal and state governments, colleges, and universities are paid the highest salaries. City regions found with top paying nursing assistant jobs include San Francisco, CA ($39,240), Fairbanks, AK ($35,860), San Jose-Sunnyvale-Santa Clara, CA ($35,210) and Naussau-Suffolk, NY ($35,000). Depending on the employer, nursing assistants may be paid bonuses which can amount to up to $200 a year.
Employment Rate
As of 2012, 1,420,020 nursing assistants were employed in the country. Many serve in nursing care facilities, hospitals, retirement communities as well as home health care facilities.
Job Outlook
Employment of nursing assistants is predicted to grow by 21 percent from 2012 to 2022. Nursing assistants will continue to be high in demand as the aging population of the nation increases and there is a growing need for long-term care services for the elderly.
Nursing Assistant Salary by State
State
Lowest 10%
Median Salary
Highest 10%
Average Salary
Alabama
$16,560
$21,250
$28,860
$21,710
Alaska
$26,730
$34,810
$44,250
$34,990
Arizona
$20,650
$27,350
$35,640
$27,660
Arkansas
$16,530
$21,050
$26,260
$21,000
California
$20,750
$27,900
$39,830
$29,400
Colorado
$20,820
$27,190
$35,840
$27,580
Connecticut
$24,650
$30,880
$40,330
$31,660
Delaware
$20,520
$27,130
$35,230
$27,250
Florida
$18,910
$23,400
$30,000
$24,080
Georgia
$16,450
$21,110
$29,550
$21,780
Hawaii
$21,510
$30,190
$37,870
$30,040
Idaho
$16,810
$22,320
$29,800
$22,730
Illinois
$18,700
$23,360
$32,490
$24,570
Indiana
$17,240
$22,480
$30,140
$23,120
Iowa
$19,960
$23,680
$33,340
$25,270
Kansas
$17,740
$22,550
$29,490
$23,030
Kentucky
$17,170
$22,390
$29,740
$22,870
Louisiana
$16,250
$19,990
$27,780
$20,730
Maine
$18,930
$23,550
$30,490
$24,300
Maryland
$20,780
$27,350
$37,470
$28,810
Massachusetts
$21,960
$28,760
$37,870
$29,610
Michigan
$19,490
$25,680
$33,490
$25,750
Minnesota
$20,650
$26,600
$35,950
$27,220
Mississippi
$16,230
$19,710
$25,850
$20,220
Missouri
$16,670
$21,740
$29,520
$22,260
Montana
$19,710
$23,430
$31,030
$24,470
Nebraska
$19,870
$23,360
$30,140
$24,180
Nevada
$22,030
$30,120
$43,010
$31,270
New Hampshire
$20,830
$28,160
$37,610
$28,670
New Jersey
$20,800
$26,780
$36,070
$27,430
New Mexico
$19,010
$24,790
$36,000
$26,210
New York
$21,500
$32,530
$42,270
$31,840
North Carolina
$16,810
$22,050
$29,610
$22,510
North Dakota
$21,350
$27,260
$35,130
$27,530
Ohio
$18,220
$23,350
$31,080
$24,210
Oklahoma
$16,500
$21,050
$27,880
$21,280
Oregon
$19,480
$25,380
$35,730
$26,400
Pennsylvania
$20,320
$26,850
$36,030
$27,290
Rhode Island
$21,330
$27,760
$37,560
$28,590
South Carolina
$16,610
$21,380
$28,620
$21,710
South Dakota
$17,540
$22,440
$29,480
$22,900
Tennessee
$16,950
$22,130
$29,510
$22,600
Texas
$16,900
$22,350
$30,800
$23,150
Utah
$18,480
$22,590
$28,990
$23,000
Vermont
$20,120
$25,180
$33,780
$26,020
Virginia
$17,410
$23,240
$31,290
$24,010
Washington
$20,910
$27,640
$37,810
$28,710
West Virginia
$16,500
$21,050
$29,420
$21,790
Wisconsin
$20,080
$25,020
$33,480
$25,740
Wyoming
$20,910
$27,640
$35,950
$27,840