Physical Therapy Assistant Salary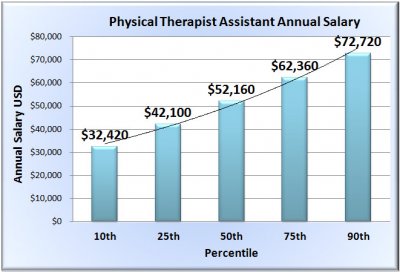 On average, a physical therapy assistant makes $52,320 each year, and the pay per hour is about $25.15. The highest paid physical therapy assistants, falling in the top 10 percent, earn $72,720 per year, and the lowest 10 percent earn $32,420 per year. Top paying industries for this occupation are home health care services, nursing care facilities and retirement community services. Cities with high paying physical therapy assistant positions include Lakeland-Winter Haven, FL ($77,230), San Antonio-New Braunfels, TX ($75,840), McAllen-Edinburg-Mission, TX ($75,490), Modesto, CA ($72,310) and Victoria, TX ($71,700). Physical therapy assistants may be offered bonuses of up to $1,025.
Employment
The number of physical therapy assistants estimated to be working in 2012 was 69,810. Most are employed in the offices of health practitioners and hospitals. Physical therapy assistants can also be found working in nursing homes and home healthcare facilities.
Job Outlook
It is predicted that the employment rate of physical therapy assistants will rise by 41 percent between 2012 and 2022, significantly higher than the total rate for all occupations.
Physical Therapist Salary by State
State
Lowest 10%
Median Salary
Highest 10%
Average Salary
Alabama
$27,630
$52,980
$70,240
$50,850
Alaska
$41,650
$56,200
$72,320
$56,010
Arizona
$21,210
$43,710
$63,240
$41,920
Arkansas
$24,050
$49,390
$70,250
$48,580
California
$39,740
$60,920
$79,070
$59,570
Colorado
$29,270
$47,190
$65,110
$47,150
Connecticut
$42,260
$58,990
$73,130
$57,620
Delaware
$39,720
$55,480
$78,830
$56,460
Florida
$40,260
$57,310
$74,180
$57,340
Georgia
$28,010
$52,530
$70,590
$50,620
Hawaii
$22,790
$48,510
$58,590
$46,480
Idaho
$23,690
$45,140
$59,800
$43,650
Illinois
$27,300
$46,060
$70,4400
$48,890
Indiana
$37,330
$53,420
$70,110
$52,450
Iowa
$32,240
$45,340
$62,820
$46,370
Kansas
$36,660
$53,830
$76,850
$55,840
Kentucky
$33,630
$48,010
$66,610
$48,730
Louisiana
$22,140
$48,050
$62,590
$44,360
Maine
$39,260
$49,500
$60,340
$49,630
Maryland
$29,510
$55,250
$73,310
$53,790
Massachusetts
$37,170
$55,630
$70,940
$54,310
Michigan
$27,080
$43,650
$75,890
$46,080
Minnesota
$34,500
$45,830
$58,350
$46,050
Mississippi
$26,180
$43,250
$68,070
$45,340
Missouri
$33,560
$48,850
$65,950
$48,950
Montana
$25,200
$41,320
$53,620
$40,470
Nebraska
$38,360
$48,810
$68,600
$50,180
Nevada
$32,490
$57,130
$84,170
$61,180
New Hampshire
$35,240
$49,500
$60,960
$48,840
New Jersey
$45,120
$59,510
$74,670
$59,630
New Mexico
$26,010
$39,960
$57,330
$40,140
New York
$33,600
$50,310
$69,630
$50,360
North Carolina
$38,770
$51,810
$68,910
$51,860
North Dakota
$32,540
$46,750
$73,960
$50,630
Ohio
$40,700
$54,080
$73,100
$55,110
Oklahoma
$27,110
$49,780
$73,020
$50,090
Oregon
$40,920
$54,170
$70,330
$54,230
Pennsylvania
$28,360
$43,090
$59,860
$43,630
Rhode Island
$39,250
$52,470
$69,600
$52,220
South Carolina
$34,670
$51,180
$70,740
$51,020
South Dakota
$25,810
$32,870
$42,960
$33,250
Tennessee
$32,730
$50,530
$71,580
$51,100
Texas
$42,410
$64,470
$92,700
$65,620
Utah
$22,170
$44,320
$59,940
$43,590
Vermont
$23,170
$49,450
$70,580
$48,980
Virginia
$30,510
$53,530
$75,530
$53,890
Washington
$36,780
$54,180
$72,730
$53,850
West Virginia
$24,600
$42,670
$67,350
$43,630
Wisconsin
$36,950
$48,680
$62,770
$49,030
Wyoming
$38,520
$46,860
$59,030
$47,260