Anesthesiologist Assistant Salary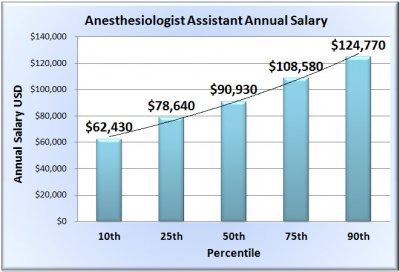 An anesthesiologist assistant is best described as a provider of anesthesia who is not a doctor, but works under the direction of an anesthesiologist.
Salary Range
The average range of an anesthesiologist assistant salary is $95,000 to $120,000. These figures are based on data recorded by the American Medical Association (AMA). The AMA also points out that higher levels of experience and education can drive the yearly salary of an anesthesiologist assistant up as high as $160,000 or $180,000. The location in which the anesthesiologist assistant works can also factor into how much he or she is paid.
Job Outlook
It does look like there will be great demand in the job market for anesthesiologist assistants. There is a dire shortage of these professionals in the medical field and the growth rate for job openings is about 25%. Job prospects are very good.
Anesthesiologist Assistant Salary by State
State
Lowest 10%
Median Salary
Highest 10%
Average Salary
Alabama
$55,660
$84,790
$112,430
$83,410
Alaska
$73,330
$93,630
$124,060
$96,630
Arizona
$47,630
$90,740
$133,310
$96,040
Arkansas
$41,710
$85,970
$112,330
$82,140
California
$68,630
$102,310
$142,030
$101,880
Colorado
$61,310
$89,370
$117,830
$89,790
Connecticut
$79,680
$104,380
$136,720
$104,540
Delaware
$76,030
$92,830
$118,750
$95,330
Florida
$64,910
$92,580
$132,270
$95,650
Georgia
$64,970
$89,730
$126,450
$92,150
Hawaii
$36,360
$82,020
$106,340
$77,240
Idaho
$61,750
$88,480
$121,730
$88,080
Illinois
$51,730
$85,460
$112,960
$84,440
Indiana
$52,280
$84,150
$121,150
$83,830
Iowa
$62,860
$87,380
$114,680
$87,820
Kansas
$65,520
$84,250
$115,840
$86,430
Kentucky
$72,460
$90,840
$143,370
$98,550
Louisiana
$36,410
$56,620
$112,900
$75,890
Maine
$76,340
$93,160
$117,960
$98,560
Maryland
$49,230
$90,150
$123,490
$88,040
Massachusetts
$35,120
$92,020
$121,600
$86,440
Michigan
$62,410
$88,310
$118,360
$90,050
Minnesota
$64,650
$94,630
$127,700
$94,820
Mississippi
$26,860
$42,360
$89,460
$50,200
Missouri
$35,610
$83,560
$128,210
$83,420
Montana
$66,060
$88,420
$114,050
$88,590
Nebraska
$66,830
$86,690
$113,490
$87,760
Nevada
$77,250
$95,820
$147,750
$102,670
New Hampshire
$75,700
$97,640
$137,200
$101,380
New Jersey
$78,200
$98,130
$126,810
$99,940
New Mexico
$31,620
$82,970
$116,270
$78,950
New York
$72,610
$94,710
$122,350
$94,200
North Carolina
$70,820
$89,860
$116,580
$91,060
North Dakota
$70,120
$87,060
$107,780
$86,480
Ohio
$69,770
$88,040
$115,530
$89,800
Oklahoma
$49,380
$88,510
$132,630
$89,150
Oregon
$76,490
$99,540
$145,150
$103,400
Pennsylvania
$46,340
$79,120
$106,080
$77,110
Rhode Island
$73,240
$107,300
$146,000
$112,250
South Carolina
$53,990
$85,950
$117,740
$85,470
South Dakota
$68,740
$87,160
$112,570
$87,680
Tennessee
$53,190
$86,750
$119,390
$87,550
Texas
$59,060
$95,200
$139,400
$99,040
Utah
$42,550
$87,850
$117,540
$85,760
Vermont
$70,060
$89,760
$115,820
$90,100
Virginia
$45,250
$82,770
$114,390
$82,150
Washington
$78,850
$101,080
$140,910
$103,890
West Virginia
$50,310
$84,550
$117,380
$89,360
Wisconsin
$76,470
$92,980
$123,400
$96,360
Wyoming
$70,370
$91,590
$124,040
$94,850